Forex and CFD traders who are residents or citizens of the United States have very limited choices when it comes to forex brokers. This is because most online brokers do not accept US clients because of the strict restrictions and heavy regulations imposed by the regulatory authorities in the United States. The major regulators in the United States are:
The commodity Futures Trading Commission (CFTC)
National Futures Association (NFA)
Security and Exchange Commission (SEC)
Contracts for differences (CFDs) are over-the-counter financial products that enable traders to speculate on the underlying financial assets without owning them. SEC prohibits the trading of CFDs in the United States because they are over-the-counter tradable assets that do not pass through regulated exchanges.
Most forex brokers in the United States are regulated by the CFTC and NFA. The requirements to become a regulated US broker are very strict, rigorous, and capital intensive. So, most brokers are not able to meet these requirements. So, they limit their operations to other regions with lesser regulatory requirements.
Hugosway Overview
Hugosway is an online broker that provides platforms for its clients to speculate on the price direction of underlying financial markets such as forex, commodities, stock indices, Cryptocurrencies and equity stocks. The trading name is owned by Hugo's Way Limited which is a fintech company founded in 2017 and registered in St. Vincent and the Grenadines.
Being an ECN and STP broker, Hugosway asserts that its spreads are tight and all orders are executed at the best market rates by its liquidity providers. More than 150 trading instruments can be traded on its MT4 platforms.The broker supports multiple trading styles and strategies which includes scalping, hedging, and the use of forex trading robots referred to as 'Expert Advisors' (EAs).
| | |
| --- | --- |
| Trading Platforms | MT4 |
| Regulations | None |
| Minimum Deposit | $10 |
| Maximum Leverage | 1:500 |
| Scalping | Allowed |
| Hedging | Allowed |
| Instruments Offered | Forex, CFD, Crypto |
Can US traders trade With Hugosway Brokers?
Yes! Hugosway is an unregulated online broker. This means that it is not registered or licensed with any regulatory agency or government authority. So, Hugosway is a global broker that is not restricted to any jurisdiction. Traders from all over the world including the US are accepted to register and trade with Hugosway.
Why Do US Citizens Use Hugosway?
US citizens choose Hugosway instead of US-regulated brokers for the following reasons:
Higher leverage
The CFTC restricts leverage to 1:50 on forex major pairs and 1:20 on forex minor pairs. So, US traders are limited by leverage. But, with Hugosway, traders can magnify their market exposure up to a maximum leverage of 1:500 which means higher potential profits if you are on a winning trade.
CFD trading
US-regulated brokers can only offer forex pairs for trading on their platforms because CFD trading is prohibited. But Hugosway offers forex as well as CFD trading to all its traders including US clients. So, US traders can speculate on the prices of more than 150 forex and CFD instruments.
Hugosway gives US financial market traders another method of trading the US stock markets; via CFDs. Many Wall Street analysts provide updated analyses and daily signals on the likely market movements. Through stocks CFDs, a Hugosway trader can speculate on the price direction of stock shares without owning the actual company equities.
Some of the popular US stocks available on Hugosway are Amazon AMZN, Apple AAPL, EBAY, Microsoft MSFT, Tesla TSLA, etc.
Low commissions
US-regulated traders charge higher commissions when compared to Hugosway. So, high-volume traders save a lot of money from trading fees.
Low minimum deposit
Hugosway gives US traders access to start trading forex and CFDs from $10. This amount is a paltry sum compared to the general requirements for trading the financial markets in the United States.
Taxes
If you trade forex with a US-regulated broker, any profits made are subject to capital gains tax. But if you trade with Hugosway, taxes can be reduced or evaded. The trader may withdraw his earnings via BTC which is generally anonymous and untraceable.
Deposit and Withdrawal for US Clients
The primary method used to fund a Hugosway account is Bitcoin (BTC). A trader can easily transfer his BTC to a Hugosway BTC address and his account will be funded within 1-3 hours. Using this method, the minimum deposit is $50 or equivalent in other currencies. All withdrawals are processed in a day and the minimum amount is $10. BTC withdrawals are received within a few hours.
For clients that do not have BTC, Hugosway has partnered with 'Instacoins' to help you buy BTC quickly using debit or credit cards, bank transfers, Skrill, etc. Once you purchase the BTC, it can be transferred to the Hugosway BTC address and your Hugosway wallet will be credited. The minimum deposit using Instacoins is $50 and the entire process takes only a few hours if you paid via credit/debit cards or Skrill. Bank transfers take 2-5 days before the transfer process is completed.
Hugosway has also partnered with PayRedeem as a merchant that accepts PayRedeem's eCards for account deposits and issues payout eCards for withdrawals. You can register and buy eCards worth $10 and above; then, use the card to fund your Hugosway account. PayRedeem's eCards can be purchased with debit/credit cards, bank transfer, or BTC and it expires after 96 hours.
When you request a withdrawal via PayRedeem, Hugosway processes the withdrawal and issues you a payout eCard which becomes immediately in your PayRedeem account. You can redeem the payout eCard by withdrawing the funds to your bank account. This must be done before it expires in 60 days time.
Fees and Commissions for US Traders
Being an ECN broker, Hugosway charges a commission whenever a trader opens a position. The commission is about $5 per for each lot traded.
What Financial Instruments can I trade?
Hugosway offers the following trading instruments on its platforms:
7 major currency pairs
21 minor pairs
39 exotic pairs
4 metals
2 Energies
1 Futures CFD
10 stocks indices
72 stocks CFDs
37 cryptocurrency pairs
What trading platform will I find as a US Trader?
The only platform provided by Hugosway for all its clients is the MetaTrader 4 (MT4) trading platform. It is the most popular trading platform accepted by most forex and CFD traders and widely offered by brokers. It was developed in 2005 by MetaQuotes Software Corporation which is a fintech company with its head office in Cyprus. The platform is free and comes with powerful tools for trading and analysis.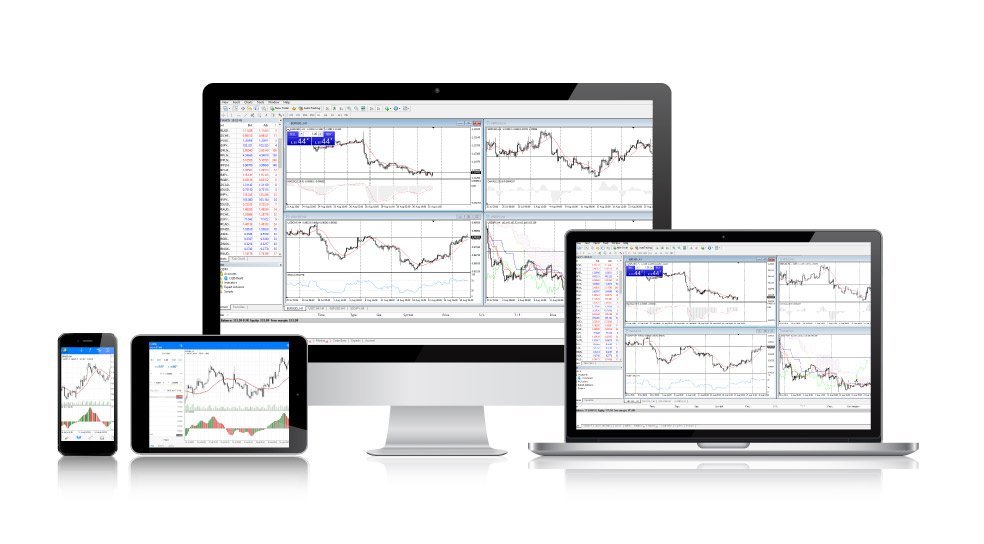 Hugosway provides the MT4 as follows:
MT4 web trader: This version of the MT4 is designed with HTML5 and can be accessed with any modern internet browser. It requires no downloads or installations and can be accessed from any operating system or device.
MT4 desktop: This is a downloadable windows application of the MT4 platform. It is developed for the Windows operating system and it is the flagship version of the MT4. You can install EAs and other plug-in apps on this version.
MT4 for MAC: From the Hugosway website, clients who own a MacBook or computers that run macOS can download the MT4 DMG file. Since MT4 is not designed for MAC, clients are advised to download and run it from 'PlayOnMac'; which is software that enables windows applications to run on macOS.
MT4 for iOS: This is the mobile version of the platform built for iPhone, iPad, and all iOS devices. It can be downloaded from the Apple app store.
MT4 for android: Traders who use android devices can download this MT4 version from the Google Play store. It supports trading and analysis on the go.
How do I sign-up for an account if I am from the USA?
US clients can sign up for a new Hugosway account within a few minutes. But to unlock the full features of a Hugosway account, KYC verification is needed.
Follow the steps below to open a new Hugosway account:
Visit the Hugosway website.
Click on 'Sign up' which is located at the top right-hand side of the webpage.
Enter your 'basic info' in the form that displays and click 'Sign up'.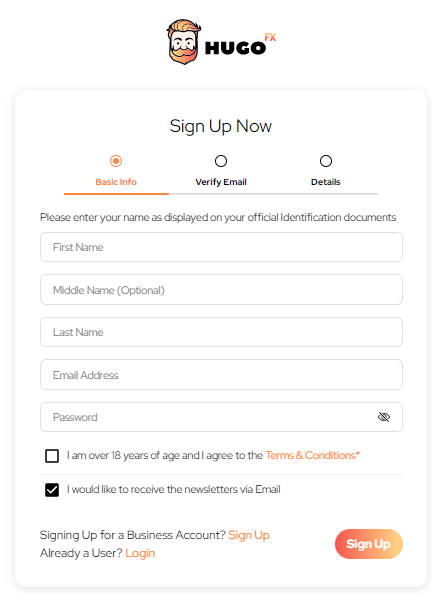 You will be required to verify your email by clicking on the link that was sent in the email.
You will be prompted to provide further details like your phone number, date of birth, gender, account currency, address, etc.
Click on 'create your account' to complete the process.
If everything is alright, you will see a welcome message. Click on 'get started' and you will be logged into the dashboard of your personal area.
From there, you can upload verification documents, make deposits, and commence trading.
Most Asked Questions about Hugosway
Is Hugosway a US Regulated Broker?
No! Hugosway services are not regulated by any authority anywhere in the world.
Is Hugosway an American Broker?
No! Hugosway is an offshore broker that is registered in St. Vincent and the Grenadines but it accepts brokers from America and all over the globe.
Is Hugosway good for beginners in the USA?
Both Beginners and Pro Traders can trade with Hugosway. However, beginner traders may not find much help if they choose to trade with Hugosway. This is because Hugosway has no trading academy, video lessons or educational resources to help newbies. Also, they do not have cent or micro accounts which help newbies to experience trading with little risks to their money.
But the brokerage offers demo accounts which are practice accounts that stimulate the trading environment and enable trading with virtual currency. Demo accounts are great for beginners to learn how to use the MT4 platform and also to test their trading strategies before applying it to a live account.
Does Hugosway offer any bonus in the USA?
No, Currently Hugosway does not run any promotions or offer bonuses to its clients.
Final Verdict
The US financial market is highly regulated and most forex and CFD brokers find it difficult to obtain a license to operate in the United States. Even the few forex brokers that operate in the US are subjected to several restrictions which do not augur well with forex traders. This has forced them to look elsewhere for alternatives and Hugosway comes to the rescue.
A US trader can open a Hugosway account, fund it with BTC and begin trading; all within a few minutes. The advantage is high leverage, faster transactions, lower trading fees, low trading capital, and no tax deductions. However, Hugosway may not be the best broker for a complete novice, though unlimited demo trading is available.